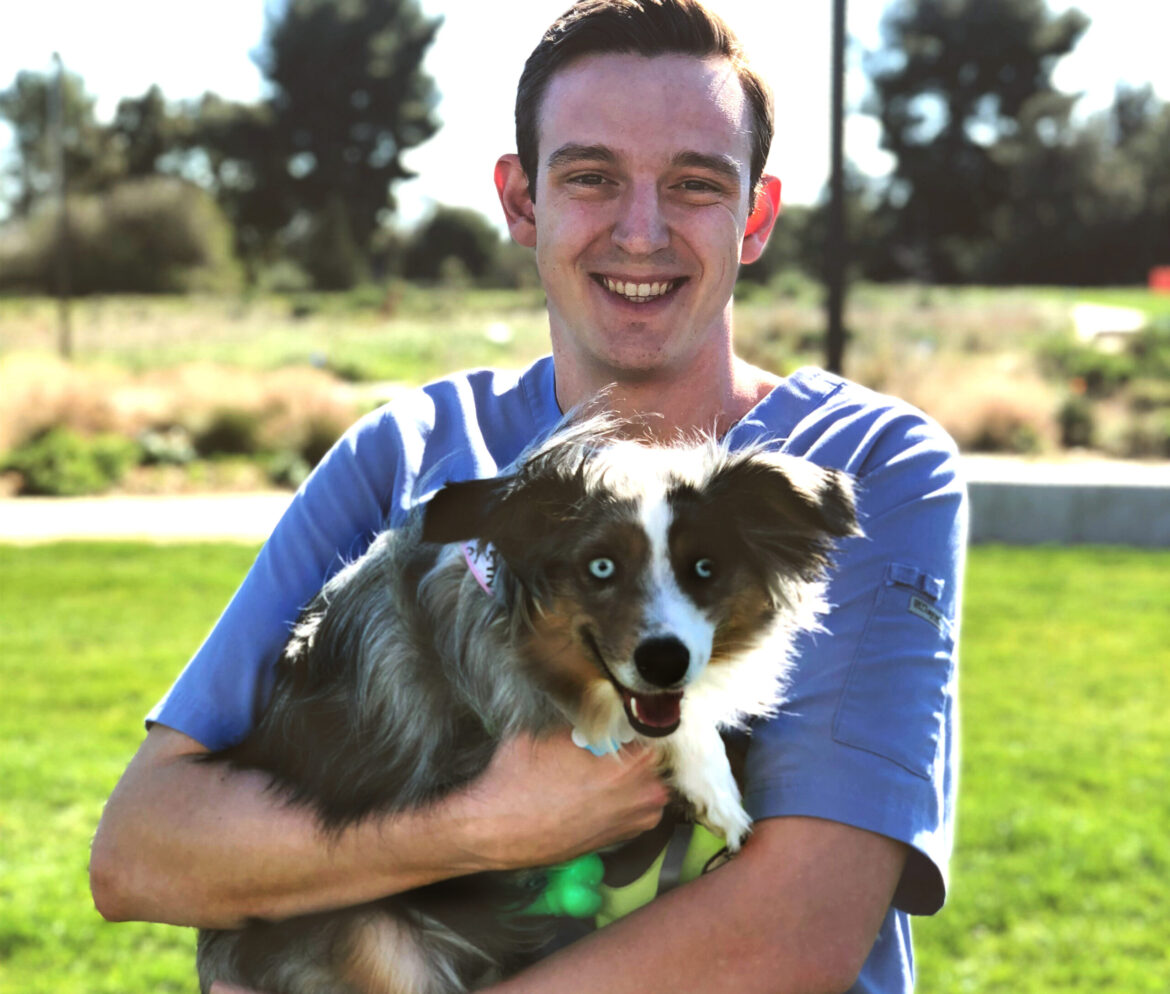 Getting to Know Your Student Rep: Ricky Walther, the Aspiring DVM with a Heart for Serving Others
Welcome to post two of our new blog series, Getting to Know Your Student Rep! In case you missed it, this series highlights the awesome work our student representatives are doing on behalf of AVMA LIFE and gives you a glimpse into their lives.
Last time, we featured Rachael Ostrem, the student representative at Iowa State College of Veterinary Medicine (CVM). You can read all about her here. This month, we're headed to the Golden State to meet Ricky Walther.
Remind me. What's a student representative?
Student representatives (or student reps for short) are hired by the AVMA LIFE Trust to act as liaisons between veterinary students; Dr. Katrina Geitner, Trust Representative for Student Services; and AVMA LIFE agents. Just like you, student reps are working their way through veterinary school. They understand the pressures of life as a veterinary student. But they also realize the important role insurance plays in helping protect the degree you are working so hard to earn.
If you're curious about insurance but don't know where to start, your student rep can help. They can connect you with an agent and provide you with any materials you need to get started on your insurance-buying journey. Plus, they'll keep you in the loop on events and special offers.
Awesome! What should I know about Ricky?
Ricky Walther is the student representative at the University of California, Davis, School of Veterinary Medicine (UC Davis SVM). He is currently in his third year of veterinary school. "I have wanted to be a veterinarian for as long as I can remember," says Ricky. "I've always had a love for animals and a fascination with science and medicine."
Ricky's passion for the veterinary field grew during high school. "I began job shadowing at a local veterinary hospital and saw the joy the doctors brought their clients," explains Ricky. "Veterinary medicine seemed to be a perfect fit for my interests, skills, and passions."
Post high school, Ricky attended UC Davis, where he earned a bachelor's degree in animal science. He then worked in a small animal general practice for six years before returning to UC Davis, this time for a DVM.
At UC Davis SVM, Ricky plays integral roles in several veterinary organizations. He is a student ambassador for Royal Canin, the 2019 National President for the Veterinary Business Management Association (VBMA), and, of course, a student representative for AVMA LIFE. "Becoming the AVMA LIFE student representative for UC Davis SVM has helped open my eyes to the complexity of the veterinary industry," says Ricky. It has been a great way to network with leaders in the industry and learn valuable information about insurance that will help me with my future, both personally and as a practice owner."
Taking on these roles has also helped Ricky appreciate the demands of veterinary school and has boosted his confidence. "Veterinary school can be challenging and stressful at times, but becoming involved in organizations like AVMA LIFE has made my experience that much more rewarding," says Ricky. "Preparing for my future career now has given me the confidence to reach for even higher goals upon graduation."
After he graduates in May 2020, Ricky plans to return to a small animal general practice. "My goal is to spend a few years learning from the clinicians around me and then, someday, to own my own veterinary hospital," explains Ricky. "I have a passion for veterinary business and want to pursue that over my career [as a practicing veterinarian]."
Ricky also wants to serve his peers through organized veterinary medicine. "I want to be able to give back to the veterinary community and help solve problems our profession is facing, such as student debt and high rates of burnout," says Ricky.
Whatever he chooses to do, helping others will certainly be at the forefront. "Veterinarians are in a unique position. We see people in their happiest moments when they bring home a new family member. But we also help counsel people through their darkest times when their pets are sick or nearing the end of their lives. This profession has given me a way to serve others every day. That's why I'm so excited to be joining this amazing field."
Outside of veterinary school, Ricky enjoys hiking and camping; traveling and exploring new places with his wife; and spending time with family, friends, and his Australian Shepherd, Kiya. Says Ricky, "Family and friends are extremely important to me. I strive to always make time to be with the people I love."
He sounds great! How do I connect with my student rep?
You can find out who your student rep is here. Feel free to reach out—they'd love to hear from you!
Don't have a student rep at your school? Consider applying for the position! Email Dr. Katrina Geitner, Trust Representative for Student Services, at [email protected] for more details.