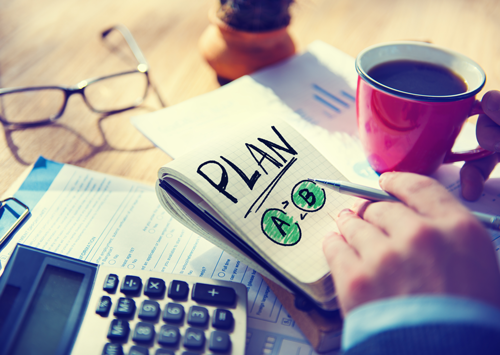 5 Reasons You Don't Have Disability Insurance (And Why You Should Reconsider)
Though 65% of people agree most individuals need disability insurance to protect their income, only 48% believe they need it personally. And an even smaller percentage—20% to be exact—actually have it.1
Why the disconnect? The reasons are far and wide:
I'm young. I'm healthy. I'm not engaged in high-risk activities. The government will bail me out.
But the reality is, no matter your age, gender, or hobbies, a disability can happen. And if it does, it's important to be prepared.
Below are five common reasons people fail to buy disability insurance, and why these excuses are misguided.
Reason 1: You suffer from "it won't happen to me" syndrome.
We like to think of ourselves as rational decision-makers who actively plan for the worst. We install home security systems, keep a spare tire in our cars, and pack a rain coat when the skies turn gray.
But despite these precautions, most of us expect things to turn out great.
This phenomenon—the belief that the future will be better than the past or present—is called optimism bias.2 And according to neuroscience and social science, most people have this tendency.
We overestimate the probability of good things happening to us, and underestimate the likelihood of undesirable experiences.
Take marriage for instance. Over 40% of marriages end in divorce.3 But ask any newlywed the likelihood of their marriage ending in a divorce, and they'll say zero.
It's the same with disabilities. Most don't believe one could ever happen to them. But the reality is, it can. And it does.
In fact, you have a 3 in 10 chance of suffering a disability that keeps you out of work for 90 days or more at some point during your career.4
And if you're young, the likelihood is even greater. The Social Security Administration estimates that 1 in 4 of today's 20-year-olds will suffer a disability before they retire.5
Do you want to bet against those odds?
Reason 2: You think you have a greater chance of being sued than suffering a disability.
Many young veterinarians are concerned with the threat of a lawsuit. And rightly so.
After all, it only takes one complaint against your veterinary license—even if it's frivolous or false—to cause a costly and reputation-damaging legal battle.
As such, it's a smart idea to protect your career with professional liability coverage. But what's just as important as shielding your career from lawsuits? Protecting your paycheck with disability insurance.
Contrary to popular belief, you are much more likely to experience a disability than a lawsuit during your career.
In fact, the Journal of the American Veterinary Medical Association (JAVMA) found that approximately 1 out of every 19 practicing veterinarians reported a potential malpractice claim in 2011.6
But as you've already learned, 1 in 4 of today's 20-year-olds will suffer a disability before they retire.
That's a huge difference.
So, do yourself a favor. Get covered for both scenarios.
Reason 3: You think disability insurance is too expensive.
People tend to wildly overestimate the cost of disability insurance. And the truth is, it can be expensive.
But when you purchase your coverage through AVMA LIFE Trust, you'll benefit from the group purchasing power of thousands of veterinarians across the country.
This means you'll experience rates that are competitively priced. What's more, AVMA LIFE hasn't increased rates in over 30 years!
Why? Because we believe whole-heartedly in the importance of this coverage, and want it to be accessible to as many people as possible.
To see what disability insurance may cost for you, contact an AVMA LIFE representative at 800-621-6360.
Reason 4: You don't understand what a disability is.
What do you think of when you hear the word disability?
A debilitating car accident? A paralyzing fall? An animal appointment gone wrong?
Many falsely believe injuries are the most common cause of a disability. But in reality, 90% of disabilities are due to illnesses, not accidents.5
In fact, mental health problems account for nearly 10% of all long-term disabilities.7
And as a veterinarian, this should be cause for concern.
Research shows your line of work makes you more susceptible to mental illness, specifically anxiety and depression.8
The Centers for Disease Control and Prevention (CDC) conducted a survey of more than 10,000 practicing veterinarians, which revealed that 6.8% of male veterinarians have serious psychological distress compared with 3.5% of U.S. male adults.8 That's nearly twice as many!
The numbers are even higher for females. Nearly 2.5 times more female veterinarians suffer from psychological distress than the average female adult.8
A student AVMA task force researched the prevalence of mental health issues among students, specifically. Their survey of nearly 3,900 veterinary students revealed:9
• 67% had experienced a period of depression
• 37% had experienced a period of depression of longer than two weeks, which meets the clinical definition of depression
• 60% had a family history of depression, anxiety, or substance abuse
• 47% had a personal history of depression, anxiety, or substance abuse
• 25% were taking medication for diagnosed depression or anxiety
Given the prevalence of poor mental health and well-being within the veterinary profession, you should consider purchasing disability insurance.
Plus, mental disorders are just one possible cause of a disability claim. There's also cancer, heart disease, stroke, and a host of other illnesses and injuries that could affect your ability to work.
Reason 5: You believe workers' compensation or Social Security will pay the bills.
Between workers' compensation and Social Security benefits, you may think you're safe from the financial burden of a disability.
But workers' compensation only covers injuries or illnesses that happen at your job. And according to a claims review study conducted by the Council for Disability Awareness, only 5% of disabilities occur in the workplace.5
If you think Social Security benefits will cover the 95% of disabilities that occur outside of the workplace, you'd be wrong.
About 65% of applications for Social Security disability benefits are initially denied, and the average monthly payment for current beneficiaries, $1,111, is barely above the poverty line.5
Next Steps
Have the facts above caused you to reconsider your need for disability insurance?
If so, take a closer look at the disability plans available to you through AVMA LIFE Trust.
And if you're still not convinced or have questions, call an AVMA LIFE representative at 800.621.6360. They're very knowledgeable and are happy to help!
2Cherry, Kendra. "Understanding the Optimism Bias." Verywell Mind, Dotdash, 3 November 2018.
3DePaulo, Bella. "What Is the Divorce Rate, Really?" Psychology Today, Psychology Today, 2 Feb. 2017.
4Farm Bureau Financial Services. "4 Types of People Who Need Disability Insurance." Farm Bureau Financial Services, FBL Financial, 26 Mar. 2018.
5Life Happens. What You Need to Know About Disability Insurance. Arlington: Life Happens, 2017. Life Happens. Life Happens, 2017. Web.
6Kramer, Mary Hope. "Veterinary Malpractice." The Balance, The Balance, 14 Feb. 2017.
7Council for Disability Awareness. "Disability Statistics." Council for Disability Awareness, Council for Disability Awareness, 28 March 2018.
8Larkin, Malinda. "Study: 1 in 6 veterinarians have considered suicide." AVMA, Journal of the American Veterinary Medical Association, 1 Apr. 2015.
9Larkin, Malinda. "Studies confirm poor well-being in veterinary professionals, students." AVMA, Journal of the American Veterinary Medical Association, 1 May 2016.
1825096